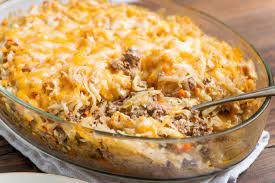 Hello Cheer Strong Bloggers!!
Looks like the warm weather is here to stay and that makes me super happy!
Come on Ontario, let's get things opened up again so we can enjoy all things that summer has in store for us.
I don't know about you, but I'm pretty sick of trying to come up with a new meal to
feed my family. I just fed you yesterday! I have to feed you again? I have a
simple recipe for you to try. I call it Cheesy Beefy. I have no idea what it's really
called, but we'll go with that
Here's what you need:
pound of ground beef
medium size shell pasta
1 can tomato soup
1 can of either broccoli soup or cauliflower soup (either one works for
this)
1 bag of shredded cheese (I use double cheddar)
salt and pepper
Optional items are onions or onion powder, Worcestershire sauce, cayenne pepper.
These are things I have put in and they work.
Now listen, I'm no chef so I just kind of slap things together and have no real
measurements. I'm just gonna tell you how I do it.
Preheat your oven to 350. Brown your beef and drain.
Add the soup, 1 can of water and all optional ingredients.
Next, add about 2 handfuls of cheese to the beef mixture and stir it in.
At this point, I would turn down the heat on the beef to low.
Cook your pasta for about 5 to 7 minutes. You don't want it to be overcooked
as it will cook more in the oven.
For 4 people, I usually use have a bag of pasta (the big bags).
Once that is done, mix the pasta into the cheesy beefy mixture and stir.
Place in a casserole dish, top with more cheese, bang it in the oven for 30 minutes,
Bob's your Uncle!!
Hope you and your family enjoy this meal as much as mine do.
~ Cheri P.